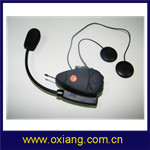 OX-BH9081 Motocycle Bluetooth Helmet
Brand

OXIANG

Model

OX-BH9081

Description

Motocycle Bluetooth Helmet Headset£¬Bluetooth Helmet Headset£¬Bluetooth Headset£¬intercom headset£¬PT...
Detail
Specifications
1.intercom communication
2.receive GPS voice
3.works with any Bluetooth equipped mobile phone
4.embeded FM
5.support Mp3
Motorcycle Helmet Bluetooth Headset Intercom /FM Radio
This device allows bikers to receive GPS voice instructions, to conduct calls on their mobile phone and listen to the embedded FM radio or their MP3 player. This headset works with any Bluetooth equipped mobile phone. Designed and Engineered for Heavy-Duty Performance.
Feature :


1,Can be achieved Bluetooth and cellular phones, stereo music and automatic switching between the FM radio.
2,Mobile phone first, calls automatically switch to the mobile phone to answer calls.
3, Can be accessed by telephone, refused to telephone and hang up.
4,Support the last number redial.
5,Support for voice switching.
6,Tthrough the transmission over A2DP to enjoy the music through mobile phones or connected GPS.
7,Can be controlled via mobile phone music AVRCP play, pause, previous song, next song played.
8,there are rumors DSP noise reduction and processing, high-speed exercise to ensure a clear call ?quality.
9,optional up to 1 languages(English) with a TTS voice function of reported number.
10,an optional FM radio function with a frequency coverage of 76 ~ 108MHz.
Specifications:
1,Weather Protected headset fit open-face and full helmet
2,High Impact balancing Microphone for inter-city speed condition
3,Self-installation within 5 minutes
4,Comply with standard of Bluetooth V2.0
5,Class 2 Type Output Power
6,10-meters Bluetooth sensing range (pairing)
7,Built-in rechargeable battery: 3.7V DC, 330mAh
8,Power adapter output: 5.5V DC, 550mAh
9,Charging Time: 1 hour (Approx)
10,Talking time: 6 hours (Approx)
11,Standby Time: up to 110 hours
12,Operating Frequency Band: 2.402 ~ 2.480GHz
13,FM radio: 87.5 - 108.5MHz
14,Color: Black
15,Rechargeable Battery: 3.7V DC, 330mAh
16,DC Charger
17,Operating temperature: -20¡ãC ~ +50¡ãC
auriculares para casco de motocicleta
Package

1,1xRider headset.

2,1xRider speakers and microphone.

3,1xAC 100-240V charger

4,1xUSB connect cable

5,1xInstallation tool

6,1xUSER operation manual
more