Detail
Test 3G/4G live streaming system
Using smarteye client/server and MPU as camera
howto
This body worn camera is an android system based on MTK chips, so in fact you may deem it as an android mobile phone, and a MPU APP is installed and running in it to provide live audio-video ?streaming, snapshot/upload and location service. this MPU APP is free for test on any android phones, pls read this article to get all through,
Let your Mobile phone work as a 3G/4G wireless HD-IPCamera,free!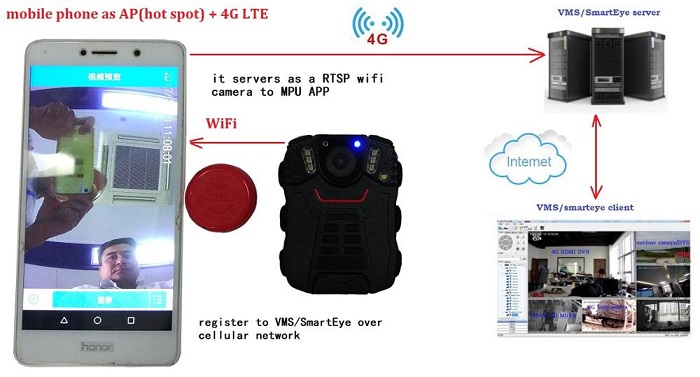 Networking arch as shown below.

To test this device, suggest following steps,
1) Download and install smarteye client, run monitor.exe to log into our demo server, 115.28.79.237, port 9701, account, besovideo, passwd,besovideo, and get live video streaming from our online devices.
2) If have a BWC at hand, bypass this. Install MPU to an android mobile phone, have access to internet and 9702/UDP port, wifi or 3G/4G, log into our demo server, 115.28.79.237, port 9702, then run monitor.exe to get the live streaming from your own mobile phone.
3) Setup wifi on this device/BWC to get it access internet, log into our demo server,?? 115.28.79.237, port 9702, make sure it has access to 9702/UDP via the wifi router, then run monitor.exe to view the live streaming from the device.
4) Setup APN on the device/BWC to enable 3G/4G connection, and get it log into our demo server
5) Setup your own smarteye server, get your device/BWC or MPU and your smarteye client log into your own server, just change to your own server IP.
1¡¢Install&test smarteye client on PC
To test this 3G/4G streaming system, you have to download software from our netdisk in China, note, some menu are in Chinese(the only one is the button for download).
All softwares including smarteye client/server, MPU/MCU and doc are all free for downloading from below URL:
https://share.weiyun.com/55EkBv1 or https://pan.baidu.com/s/1jWpe3RFnUCI0kceRUT8KUw , passwd: 8zss
(note, this URL for netdisk will be valid for long time, pls save it for later update) first, download the monitoring software for WINDOWS PC, download smarteye client ----> stable_release--->Client-0203-0940.rar
(note, the version number(-0203-0940) may change)


Unrar and install smarteye client, run monitor.exe to login to our server for test on internet, serverip:115.28.79.237, port:9701, username/passwd are both besovideo.


Then find those devices online(icons highlighted), double click on device video channel, may get live streaming view.


Double click on channel1(video1) or select transfer audio-video in right-click-menu to get live video.

Support online upgrading.


For 2-way talk, right click on the device from monitor.exe.


If you want to turn to another server.

And for GPS location, you have to change to google map because in China, default to baidu map.

2¡¢Install&test MPU APP on android phone
Then next, you may find an android mobile phone to install and run MPU APP, mpu.apk may be downloaded from above URL, MPU--->mpu415.apk (note that number may change), download it and copy&installed to your android phone.


set serverip and port in MPU:
115.28.79.237, port9702, then click login/register


Then you may live view video/audio stream from your android mobile phone in smarteye client/monitor.
Pls note,
MPU stays in a trial version for 14days after first installation, an authentication is needed for later use, pls refer to below chart for details about auth howto.
3¡¢Setup your own server
Support WINDOWS OS, recommend windows server 2008/2012 for commercial application, WIN7/WIN10 may be used for temp test and demo.
Download smarteye server installation package to a windows PC,The path in netdisk is
Smarteye_server ---> released ---> Server-B-dddd-tttt.rar, size about 28MB,


Note, that number(0307-1550 may change at time)
Note,
You must login this windows PC using administrator, and no other softwares that employ database(mysql). Run setup.exe to install, leave all in default,


Start all the 3 services up, and auto stopped, it means error occurs, Possible solution is uninstall server and re-install it to another path, such as D:\Program Files (x86) instead of C:\Program Files (x86), this is due to write access denied on some windows PC. And enable/add 9701/TCP, 9702/UDP, 9703/UDP in firewall in-station rules on this PC.
And make sure you may see a process by name of ¡°sms.exe¡±is running in windows task manager.
If server/service starts up OK, then fill this IP of this PC to MPU and smarteye client, login separately at 9702/UDP and 9701/TCP, then live video may be obtained in monitor.exe.
If server and client run on same PC, then using 127.0.0.1 as server IP for client login.

more