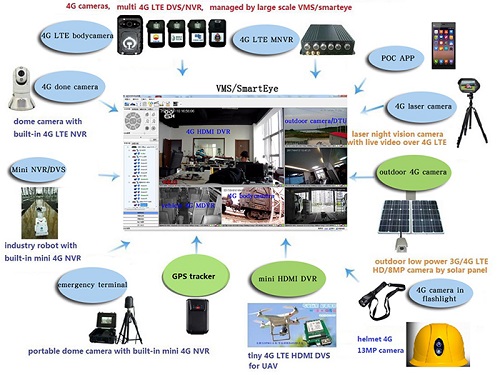 SmartEye Software
Brand

YQYWR

Model

SmartEye

Description

Large-scale networking Video Management Software VMS/SmartEye...
Detail
Large-scale networking Video Management Software VMS/SmartEye
1.Brief
SmartEye, designed&released by oxiang, is a large-scale networking video management software/VMS, it's ready-to-use, high-performance, reliable solution, and flexible for your business at any size.
It's completely free.
It's designed for mobile CCTV surveillance, but may extends to support any kind of IP networking video devices.
supports
1) Multi networking video devices register in
2) Multi access mode, 3G/4G, wifi/COFDM, wire cable
3) Multi terminal as client, both PC(WINDOWS/LINUX) and mobile devices(Android/IOS)
4) Multi audio/video encoder/decoder, H.265/H.264/MPEG4, AAC/G.72X
The smarteye system consists of three parts,
(1). Server part, including CMS, VTDU(for stream forwarding),NRU(for storage/file upload/download), protocol gateway for 3rd party device access.
(2). Client monitor, live view, record, emap/GPS, playback etc.
(3). Manager, user management and remote control&config on devices.
Terms,
PU: the devices, including cameras, DVR/DVS/NVR etc
CU: the client, both on PC and mobile devices
2.Features
It supports,
1)Live video/audio.
2)2-way audio and audio talk among multi devices.
3)E-map, support both online maps(baidu&google) and static maps, interactive maps, GPS tracking, track playback.
4)Record management, remote search, download, playback
5)User management and remote instant control&configuration on devices
6)Advanced functions to detect and respond to incidents&alarms.
It highlights,
1)Scalability, max to 1024 devices connection for one single server, and support distributed mode, thus may expand to support millions of devices by cascade.
2)High security, Ukey supported to secure user access, data encryption over wireless channel, 5 user level to secure access to devices.
3)Openness, varied SDKs provided for 2nd development and integration, including WEB SDK(OCX/HLS/RTMP) for B/S and CUSDK(C++) for C/S software.
4)Flexibility, may be deployed quickly on WAN or LAN.
5)High stability, may serve 7x24hours without interrupt.
6)Compatibility, supports 3rd networking devices access via protocol gateway.
3.Networking architecture
As show below ,


Pls note, this is no P2P by default, it's on proprietary protocol, no ONVIF. All data including audio,video stream will go through the server, so the bandwidth and quality of the network on server side is key to the system.
4.Main Functions
4.1Live view

Multiple windows, support rotate, full-screen.


Maps together with live video

4.2 2way audio&multi call&broadcast
talk to any device from the VMS platform in control room


Or setup a audio conference to enable multi call among devices and clients,


Press PTT key on device to deliver a speech.
4.3 Remote control&configure&diagnose
The devices can be configured locally by lan_search_config_tool with local Ethernet cable connected, or configured remotely on VMS/smarteye client/manager.

4.4 Record management,schedule&query&download
record schedule, 7x6 time period


Search record files from device/PU,

Search record files on NRU server,

4.5 Snapshot,schedule&upload&query&download&playback
Snapshot settings,

Snapshot will be uploaded to NRU server, search by date/time and download to playback,

Double click on the single file to download and playback.
4.6 E-maps,GIS&bookmark
Both online maps and static maps supported.
Mark on e-map supported.

4.7 GPS track record&playback
the principle is, setup/create a record rule on NRU server setting in smarteye client/manager, and you may search and find those record files on server by running smarteye client/monitor.
run manager, Storage Server Manager, right menu on "First NRU Server",


Then you may search it from server and download from server using monitor
It's .gps file, maybe reviewed by monitor.

Pls note,
It's the same way to save/record audio/video on NRU server, and then search them out using smarteye client/monitor and then download to PC and playback by smarteye client/player.

4.8 Event management
Filter supported.

4.9 Respond to incidents&alarms
Multi actions supported to respond to alarms and incidents from devices, e.g., the SoS key pressed down on a PU/device, an alarm detected at once on VMS, and series actions may be taken to respond, located to center on map automatically, 2way audio talk opened with live video windows popup automatically.
This is set&configured in smarteye client/manager.

4.10 PTZ operations
4.11 User management
4.12 Local settings&online upgrading&multi language support

Select Language to English
4.13 Decoder support
Decoders are configured to enable project to screen wall/matrix.
4.14 Dynamic plugin support
Dynamic plugins are supported to provide support for various industry applications.
4.15 Intelligence analysis
Any kind of intelligent video analysis may be integrated into this smarteye system, including face recognition&matching, plate recognition, behavior analysis etc.
4.16 Protocol converter gateway
Protocol converter gateway is one of the server components, mainly to provide access to 3rd party networking devices, including IPCamera, DVR/DVS/NVR, GPS tracker etc.
4.17 Multiple SDK for integration
Multi client SDK provided for 2nd development and integration, including
WEB SDK for B/S software, support OCX/HLS/RTMP
CUSDK for C/S software, built on C++
Below is a OCX based WEB SDK, integrated with a former B/S software,


Or a protocol converter to cooperate with milestone

4.18 Free customization on LOGO&Title&startup picture
4.19 Playback
Smarteye player is a full-function player. play, step, fast forward/back, snap, etc.

4.20 Online upgrading
4.21 Distributed mode
4.22 P2P as an optional mode
P2P mode is an optional mode to release network burden on server side.
4.23 UKey support
UKey, a USB dongle as HW watchdog, is supported to secure access to smarteye system.
4.24 Completely free
System requirement
CPU: > Intel Pentium,RAM: >= 2GB, HDD: >= 20GB
OS: WINXP/WIN7/WIN10, for server, > windows server 2008
more